This page is a "living" page.   I'll be updating it throughout the year with the progress and happenings of the garden.  Also, this page is going to be heavy with pictures, so it may be slow to load.  The primary focus is going to be on this year's Vegetable Garden, but we'll gover other events and related topics as well.   The newest entries will be first on this page.   There's more information associated / entered for each of the pictures – so feel free to click on any of the pics.
September 1st – More and more tomatoes

S

till more tomatoes – it's a glorious time of year.  We're also getting figs and lots of peppers.  I

feel a big Salsa making session coming up. 
  Salli also came over and picked a bunch of things too.  We're having loads of fun in the garden.
August 17th – TOMATOES!  & Figs!
Ok we're getting lots of tomatoes now.  Finally the green tomato drought is over! 
We're starting to get lots of figs too.  I made a Fig tart with Cornmeal-Rosemary crust this weekend with some from the tree – turned out really nice.
July 29th – Not the Only One
Seems the farmers down in Pasadena at The Path to Freedom Project are having issues with stuff not getting ripe as before.  Check out the Wacked Out Weather blog entry on their blog.  Here's hoping we get some weather to help the tomatoes ripen.
July 26th – Green Tomatoes and such
So we're having a bountiful tomato crop – however there's a slight problem – none of them are getting ripe!!!   Maybe it's weather, maybe it's something else?  Who the freak knows.  We've only gotten three ripe red tomatoes so far, and only five small Sun Sugar. 
Both Salli and I are just perplexed.  On another note – we're getting lots of squash, bell pepper, and tons of Cucumbers.
July 19th – Pesto with Southern Gusto and Annie's Annuals
So this weekend I made eight (yes that is an 8  ) half pints of pesto to use up some of the basil from the garden.   This variety was made Southern style – with Pecans instead of Pine Nuts.  Thing is I had lots of Pecans in the house and had used all the Pine Nuts I had for a smaller batch of Pesto last week. 
The batch last week had been to inaugurate the food processor I had to buy.   I had been limping along with just a small chopper that came with my immersion blender.  After seeing all the pesto in the garden, I decided it was time to buy one.
Also, I came up with a new jar label for the Casa de Kitty Pesto Product line.  Here's a couple of pics of the labels – 




Basil-Pecan Pesto        Standard Basil Pesto
On Sunday Chris and I took a trip over to Richmond to visit Annie's Annuals, a great nursery / garden center we saw on California Country and I had heard about from some other folks on the blogs.   I was looking for some shade loving plants for under the Japanese Magnolia.   I had seen online that they had a lovely selection of Columbine (Aquilegia) to fill in and provide a few bright spots of color.  I'll post some pictures once they start coming out fully.
July 15th – Mid July Report – FIRST TOMATOES!
Ok – there's only four of them but it's a start! 

Here's some other pictures of the garden that will show how much it's grown.  Been gettings lots of cucumbers and squash.  We have TONS of green tomatoes.  Heaven help us when they start coming in.
I've been making loads of Pesto with all the basil we've had coming in.  I see lots more pesto in my future.
July 4th – First Squash Grill and fun
So we picked some of the first squash to grill for lunch.  Was lovely.   We were going to go to a friend's BBQ, however my niece Megan was covered in hives thanks to the cats.  Tomorrow we'll go to get her looked over at an emergency care place.
Also, here's a few pictures of some of the first harvest of figs we got.  Our Fig tree has two crops – one from the old wood, and one from the new wood. 
June 28th – Return Home
So we came home with my nieces Megan and Chelsea to find the garden had went crazy!  Everything looks like it has taken off!  We checked out some of the stuff and saw we had some squash and cucumbers ready.  Chelsea promptly picked one of the larger cucumbers and set off to grab some ranch dressing to enjoy.   Pictures coming soon.
June 20th – June 27th —

A Trip Down South to Visit with the Folks
On June 20th, we went away for a week or so to visit my folks in Mississippi.   My Dad (Thomas Sr.) is also a gardener and they have a nice size chunk of property they've been farming and maintaining for going on 40 years.  This is the place where I and my sisters grew up, surrounded by woods, some livestock, gardens and loving family.  I won't go into all that here, instead I'll concentrate on what we saw while visiting.


My folks have a blueberry patch (orchard?) that has been in place since my last years in high school.  That was my summers and winters getting the "bottom" (a field down the hill from the house) ready for the blueberries.  I can remember many heated discussions between Daddy and I about putting in sprinkler system.  Even then I was full of myself and thought I knew it all. 

This trip I was able to introduce Chris to the Blueberry patch.  In the sapce of less than 40 minutes we picked about 2 gallons of blueberries.
My Dad also likes growing his veggetables too.  However these days he no longer has a large garden as we did when I was a kid.  In those days we would have a large garden

(about an acre) and other crops like corn and potatoes in the Bottom.   However, no more, as Mama and Daddy no longer have a labor force (me and my sisters) at home. 
      Year before last I gave Daddy this novelty item I found for growing a tomato upside down.  This was the second year he used it.  Conceptually it was a neat idea, and it looks like it plays out well too. 

Daddy has   some other tomatoes in pots as well. 


He also has a couple of peach trees that he's grown from seeds.  The peaches aren't very big, but they are darn tastey.  This is a perfect segue into another subject – sustainable agriculture and a great book I found. 

For this trip I carried a book called Fields of Plenty by Michael Ableman.  In the book he covers sustainable agricultural movement throughout North America.  He visits lots of smal farmers that are growing vegetables in a way that doesn't damage the planet nor bring in crazy varieties that are totally unsustainable.  Most of the crops are heirloom varieties that pack a lot of flavor into smaller packages that don't require a lot of the care, and resources that hybrid varieties do.  It's a great book that I bought as for the subject covered, the photos and some great recipes as well.
 June 15, 2008 — Garden In Progress – The Early Days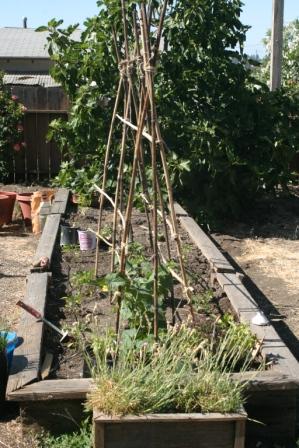 Roto Tilling & Garden Preparation  (May 11, 2008)