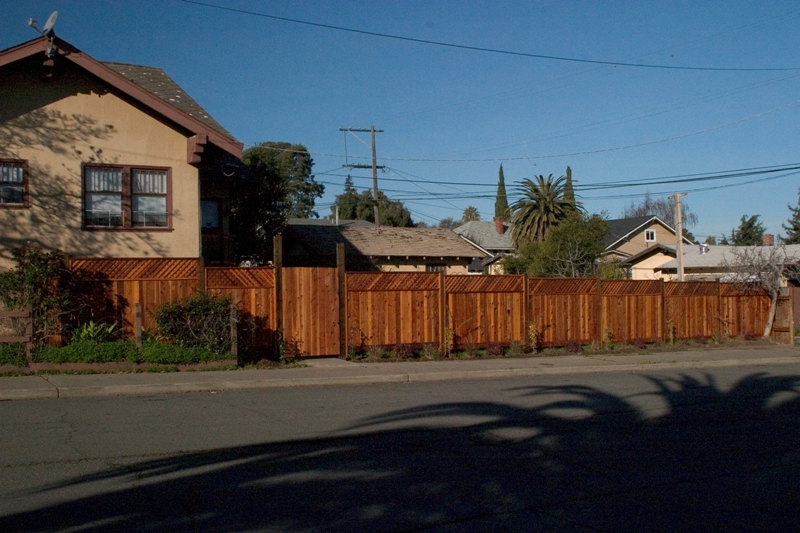 I never posted the final look at the fence we installed on the east side of our property.  So here it is.
We finished installing all the custom pieces finally in late September.  Cutting down the panels wasn't as hard as I thought.  The most difficult piece was putting together the blind post to support the last panel at the end of the run.  The back fence of our property was replaced fairly recently.  Due to that I didn't want to mess that fence up trying to attach this new section.  So I had to put together a post for the middle of one section of that fence.
I cut down a 4×4 pressure treated post into three sections.  I had to fit them into the bottom (partially below grade), middle, and top.  After I had those fit into place, I then used another full length pressure treated 2×4 to tie it all together and shim out to where the new fence panel would stop.  All said I think it turned out OK and made for a solid structure, though not optimal.  Chris helped me attached the panel and get it level and such and then we were done, except for the gate. 
 As I had posted previously we want a special garden gate to make it more than just a utility entrance to our garden.   Well we didn't have time to build that prior to going to the Craftsman Weekend and wanted the fence to be complete and secure the property for our trip.  So we built a temporary that's turning into a more than temporary.  However I have bought the select wood (at $400 – ouch) for the gate.  Perhaps with rainy weekends we're having now I'll work in the garage to get it built.  More to come on that.
So we were able to go down to So-Cal and enjoy a few days mingling and getting to know other Craftsman enthusiasts without much thought to having security issues back home thanks to the fence and the new uber-security alarm.
When we got back from the Craftsman Weekend we stained the fence using Penofin.  We used the same stain on the deck to bring the two together, called Transparent Redwood.  In staining the fence we also applied stain to the pressure treated posts as well.  This dulled the typical green color and made them more rosy.
After the fence had cured we went to Mid-City Nursery in American Canyon and bought the landscaping plants.   Julie helped us pick out a great selection of plans that were hardy, low water usage, and low maintenance.  We chose Pyrocathia, maroon grass, and a small bush with red leaves.
The next fence project was the west side of the property.  Post coming on that soon.
 Here's some pics:
 – Japanese Magnolia
 – Closeup of fence with gate and landscaping.